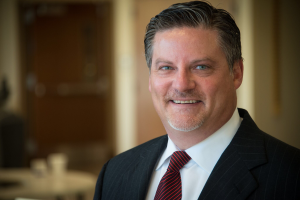 That was the title of our annual luncheon topic presented February 11 at the McKenna Events Center.  The Greater New Braunfels Economic Development Foundation is pleased to present four such events each year and the one Feb. 11 kicked off 2020 for the Foundation.
Our Executive Director, Chamber President Michael Meek, moderated a panel on the topic of why companies choose New Braunfels for their expansion or headquarters.  We had representatives from three companies that have recently made plans to come here, or are recent newcomers.  One is a major automotive supply manufacturer of advanced driver assistance systems.  Another a major customer call center, and the other a major land developer. 
While each listed various factors in what makes our community so attractive to an employer, some common themes emerged during the discussion.  Those included our growing population base, great schools, attractive amenities such as our vibrant downtown, good governance and partnerships, and strategic location-transportation systems.  In 2019, primary employer announcements were at near record levels and we are thankful that these companies appreciate what we have come to know and love every day.
Our Foundation is growing and attendees to our events are as well, with nearly 250 at the luncheon Feb. 11.  New officers and directors were elected, an annual budget was adopted, and a professional services agreement with the Chamber was approved.  Another sign that we're off and running as an established entity after 15 years of operation is that most of the sponsorships for the four luncheons have been spoken for already, which is a first this early in the year.
If you think our luncheon was already packed with valuable information, we made time for Comal ISD Superintendent Andrew Kim to brief the attendees on their upcoming bond issue.  Why a bond issue?  Kim reminded attendees of the number of new students to the district each year (1,000+), the number of new employees (300+), and the size of the land area it serves (589 square miles.).
Of particular interest is one of the four proposed bond propositions dealing with an multi-use events center.  With our city growing at the pact it is, we are in need of such an facility.  The school district has dozens and dozens of functions that are in need of such space and when you add in all the other possible events, the opportunities are endless with banquets, concerts, charity fundraising events, conferences, festivals, graduations, home and garden shows, indoor rodeos, kids and family expos, trade shows, and more.
Attendees to the Foundation luncheon also walked away with our semi-annual activities report outlining new company announcements, marketing initiatives held to date, and more.  New Braunfels is certainly seeing a vast amount of opportunity and with the partnerships our community enjoys, I am confident we will capitalize on even more in 2020. 
April 21 we'll focus on the electricity market in Texas, with presenter Ian Taylor of New Braunfels Utilities.  Consider joining our effective Foundation!
Tim Zipp
Chairman, Greater New Braunfels Economic Development Corporation
CLICK HERE to learn more about the GNBEDF.