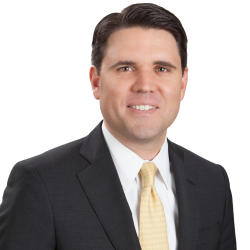 Our Foundation was pleased to hold an in-person annual meeting on February 9, and to begin the year with a tremendous message from Comal ISD Superintendent Andrew Kim. Having just received the baton from 2020 Board Chair Tim Zipp, I will briefly introduce myself here, recap our annual meeting, and discuss the year ahead.
My name is Patrick Rose, and it is an honor to begin my service as 2021 Board Chair of the Economic Development Foundation. Because of my respect for the importance of the Foundation's work to this community we love, I take this responsibility very seriously.
While my wife and I are raising our boys in her hometown of San Marcos, it has been a true pleasure to begin to understand, and to respectfully serve, the New Braunfels Community. Since my colleagues and I at Corridor Title opened for business in New Braunfels in 2017, I have come to respect the depth of substance, strength of character, and quality of place that is singular to the New Braunfels community.
While Corridor Title has been afforded the opportunity to grow in service to Dripping Springs, San Marcos and Austin, we have been particularly honored to open for business in New Braunfels. Everyone reading this newsletter understands what I'm about to say better than I can express it here, but please allow me to try.
New Braunfels is a singular place --- the kind of community that gets better the more time you spend in it. Stated another way, the closer one looks, the better our community looks. And that doesn't happen by chance. It only happens with intentionality, with strong institutions like our Chamber, and through the purposeful work of countless volunteers, as well as the world class professionals on the Chamber Staff. It is this legacy of service, and momentum, upon which we seek to build this year at the Foundation.
Our Annual Meeting, held on February 9, was a tremendous opportunity to gather in-person --- something we all hope we'll be able to do more of in the months ahead. We were blessed by the presence of Comal ISD Superintendent Andrew Kim, one of the best Superintendents in Texas. Some highlights of Kim's informative presentation are as follows:
*The District deeply appreciates the service of their staff over the past year, and is proud of their remarkable 95.5% teacher attendance rate;
*82% of Comal ISD students are attending on-campus classes, and outdoor graduations that were piloted last May will likely be repeated this year;
*The District continues its staggering growth, ranking second in new home starts out of twenty districts in the San Antonio Region;
*Pieper High School will become the fifth Comal ISD high school when it opens this August, and development on the SH 281 corridor remains the fastest in the District;
*Conservative projections show over 30,000 students during the 2024-2025 academic year, with enrollment likely topping 35,000 by 2031.
Due to this growth, Kim underlined the importance of the District's ongoing deliberation regarding an upcoming Bond Election, likely to be held this November. The Foundation greatly appreciates Comal ISD's proactive leadership, and looks forward to continuing this important discussion in the coming months.
Before I close, I want to briefly highlight the importance of the Foundation's legacy, and the work of the coming months. Over the past 20 years, the EDF has partnered with the NBEDC (4B) to create over 17,000 direct jobs, enlarge the local medical footprint, and increase office and industrial inventory. Initiatives currently championed by the EDF include recruiting high-wage jobs via our talented Chamber staff, increasing spec buildings and shovel-ready sites, providing timely market analysis to interested prospects, and supporting the local medical community as they recruit more physicians and nurses (MD:NB).
As an EDF, we are committed to listening, serving and growing our local economy. My personal commitments in the immediate term as Board Chair include remaining accessible to you, seeking your input, and supporting the tremendous Professional Staff at the Chamber engaged in the critical work of the Foundation. In that vein, please never hesitate to reach out to me directly by email at patrick.rose@corridortitle.com. I will value your input as we seek to partner together during the year ahead. 
The New Braunfels economy is poised to rebound and thrive as vaccine distribution spreads to more of the population --- here's to the year ahead!
Patrick Rose
Chairman, Greater New Braunfels Economic Development Foundation