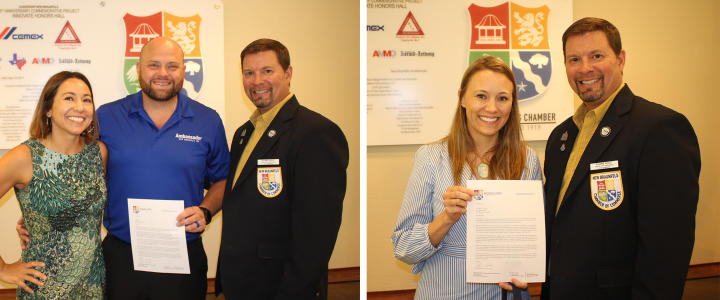 At today's Chamber Board of Directors meeting, two Chair of the Board Awards were announced. Dr. Whitney Mitchell was honored in the field of education for her efforts with the New Braunfels Science Fest each year. Ian Perez received the award in the field of community improvements for his efforts on the City Bond Issue this past spring. This award is designed to honor individuals who have made a significant contribution to the community in a specific field of endeavor, and no more than six recipients may be named in a calendar year.
Dr. Mitchell maintains her medical practice locally and is a member of the New Braunfels Rotary Club where she works with Rotary's International Exchange Program. Two years ago she and Dr. Allison Bray conceived and created Science Fest to develop young people's interest in science, technology, math and engineering. The program has been highly successful in its first two years with thousands of attendees and hundreds of exhibitors. The event is hosted by the New Braunfels Science Education Foundation which Mitchell cofounded as a way to involve more students in STEM-centered programs. Thousands attended last year's Science Fest which featured experiments and activities led by educators, students and volunteers from area public and private schools, Texas universities, local master naturalists and gardeners and dozens of area firms. Click here to read more about Dr. Whitney Mitchell >
Perez opened Raba Kistner's New Braunfels office six years ago and has served as the engineer of record for numerous projects with the city, county and the surrounding area. Since moving here in 2012, he has worked tirelessly to help shape the community. He is a member of the New Braunfels Rotary Club where he served as President and has also chaired the club's Wurstfest booth. He helped organize the Hill Country Craft Beer Festival and has been recognized as a Rising Star by the New Braunfels Jaycees. He served as President of the Texas Society of Professional Engineers, and in 2013 was honored as the Young Engineer of the Year. When it became apparent that the City would be holding a bond election in May, he was the catalyst for a citizen-led Political Action Committee. As Chairman for the Vote FOR New Braunfels proposition campaign, he organized a large number of volunteers for several months and left no stone unturned in the pursuit of a positive vote by the citizenry. A city record percentage of YES votes approved all four propositions. Click here to read more about Ian Perez >
For these reasons and many more, Mitchell and Perez are the second and third recipients of the Chair of the Board Award of 2019. J.P. Medina was honored in the field of youth development in April. Mitchell and her husband Paul, and Perez and his wife Jocelyn will be invited as special guests to the Annual Chamber Banquet on January 31, 2020 where they will be further honored.