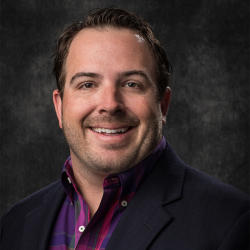 Douglas Miller II, born and raised in New Braunfels, graduated from New Braunfels High School in 2002 and attended Angelo State University where he received a Bachelor's Degree in Science in 2006.  Douglas is a graduate of the Hartford School of Insurance (2006), the Independent Insurance Agents of Texas Producer School (2007), and Leadership New Braunfels (2008).  Currently, Douglas is Vice President, Commercial Insurance Department at Miller & Miller Insurance Agency, where he has worked in the family business since 2006.
In July of 2009 Douglas married his college sweetheart, LeAnn Seale. Together they have two very active children, McKinley (6) and Korbyn (2). He loves spending time outdoors with his family, their family dog (Ruger, a 1 year old German Shorthaired Pointer) and friends camping, fishing, hunting, and boating. Douglas also enjoys spending time raising his South African Boer Goats on his In-Law's ranch in Comal County.
Douglas is an active member in The New Braunfels Rotary Club, The Wurstfest Association, The New Braunfels Chamber of Commerce, NB Next, and Oakwood Baptist Church. Douglas currently serves on the Board of Directors of The Sophienburg Museum and Archives, The New Braunfels Chamber of Commerce, Riverplace at Gruene Homeowners Association, Chair of Leadership New Braunfels and has previously served on the boards of The Comal County Senior Citizens Foundation and Connections Individual and Family Services.
Fun Facts: 
If you could have 1 super power, what would it be? The ability to control time and time travel.
What was your favorite toy growing up? As a young boy, I would not be found without my "pop" gun!
If you could have dinner with anyone, past or present, who would it be? If I could have dinner with anyone, past or present, it would be Jesus. If I could choose a second person, it would be my Omie, Wallie Gerlich Mund, who passed away from ALS in 2006.