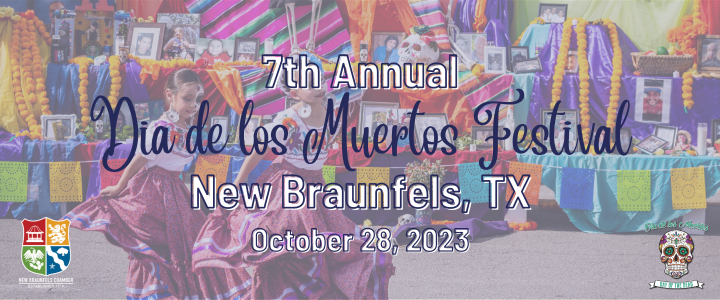 The Chamber's Hispanic Business Alliance is gearing up for a special event this fall. On October 28, 2023, the streets will come alive with color, music, and tradition as the annual Dia de los Muertos Festival returns to town. This celebration of life and culture is a cherished event for the local community, and this year promises to be bigger and better than ever. With vendor applications closing at the end of August and sponsorship opportunities available until September 30, now is the time to get involved in this unforgettable event.
Dia de los Muertos, or Day of the Dead, is a Mexican holiday with deep historical and cultural significance. It's a time when families gather to remember and celebrate their loved ones who have passed away. This festival serves as a bridge between the living and the dead, a moment to honor the departed and keep their memories alive through vibrant altars, music, dance, and food.
In New Braunfels, this tradition has been embraced with open arms, becoming an integral part of the community's cultural tapestry. The Dia de los Muertos Festival embodies the spirit of unity, togetherness, and the celebration of life that defines New Braunfels.
One of the highlights of the Dia de los Muertos Festival is the diverse array of vendors who bring their unique crafts, art, and cuisine to the event. Whether you're a local artist, food vendor, or artisan, this is your chance to showcase your talents to a captivated audience.
Vendor applications are currently open, but don't wait too long! The deadline to submit your application is August 31, 2023. This is your opportunity to be a part of an event that draws thousands of attendees eager to experience the beauty and diversity of Dia de los Muertos. Apply now to secure your spot and share your creations with the community.

The Dia de los Muertos Festival is made possible through the generous support of sponsors who understand the importance of celebrating culture and heritage. If you're a business or organization looking to connect with a vibrant and engaged audience, consider becoming a festival sponsor.
Sponsorship opportunities are available until September 30, 2023. By partnering with this beloved event, you not only support the local community but also gain exposure to a diverse and enthusiastic audience. Contact the festival organizers to explore the sponsorship packages and find the perfect fit for your brand.

Whether you've been part of the Dia de los Muertos Festival in the past or are considering attending for the first time, this year's event promises an unforgettable experience. From the colorful processions to the captivating altars, live music, delicious food, and vibrant art, there's something for everyone to enjoy.