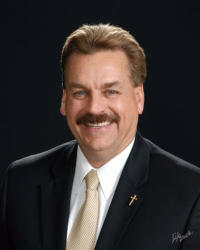 By Mark Hampton, 2014 Chair of the Board
Well, it's December and that means Santa is busy making his list and checking it twice. And by all accounts, with all of the hustle and bustle in New Braunfels, Santa's elves are especially busy this year. But before I provide you with my personal "Christmas wish list", let's take a minute and reflect on what I feel has been a blessed year.
In January we kicked off the 2014 year with the theme, "TEAMWORK Today Determines Success Tomorrow". At the Greater New Braunfels Chamber of Commerce Banquet we reflected on the success of our Chamber of Commerce in a video with several community leaders providing their input. Keynote speaker Senator Ted Cruz capped off this sold out event.
In March, our Chamber of Commerce held another successful Texas Legislative Conference, with many great leaders from around the state participating. Former Chief Justice of the Supreme Court of Texas, Wallace Jefferson was recognized as Texan of the Year.
This past year has seen another graduating class in each of the Chamber's Youth Leadership and Leadership New Braunfels classes. For many years, these programs were led by Rita Kaufmann Powell. And even though Rita retired at the end of summer, these key programs continue with the 2015 classes currently in progress.
In April, Dr. Kent Fischer of Fischer Veterinarian Clinic was recognized as the 2014 Small Business Person of the Year. Also during the year, we recognized John Seidel, Jerry Major, Becky Voges, Al Leach, Clint Rutledge & Mae Ruth Meyer with Chair of the Board Awards. All of these individuals give of their time, talent and treasure making New Braunfels a better place to live.
You know, during the past 12 months, I have often commented on the fact that our Chamber of Commerce is one of the most successful Chambers in the state of Texas. This is significant when you consider that Texas leads our country in creating jobs; Texas leads our country in growing the economy. And when you consider our country is the leader in driving the global economy, that is very significant and it puts our community in a bright and positive light.
But our success doesn't come by accident. It happens because of 4 factors –
1) Membership involvement, 2) A very qualified and strong staff, 3) Volunteer leadership, and 4) A strategic plan and implementation of that plan. It is not one or two factors. It is all four factors. And the catalyst or glue that makes this all work is teamwork. It is teamwork that determines our success.
With our success come many opportunities. But with these opportunities, also come challenges. In order for our community to take advantage of these opportunities, our business community must be proactive in addressing challenges. Business leaders must be involved in decisions that affect our community and the business landscape.
Two of the biggest challenges we have and will continue to face are water and transportation. This year, our Chamber of Commerce was proactive in both of these issues. The Water Quantity Task Force spent several months working on a strategic plan to address our future water needs. Recently, our Chamber of Commerce endorsed these recommendations and will continue to be proactive with this challenge. The Chamber also supported Proposition 1, which passed in the November election. This constitutional amendment provides much needed funding to our transportation needs without raising taxes.
2014 also saw sales tax revenues increase over 10% and room occupancy tax revenue records were set. We have seen new companies come to New Braunfels adding hundreds of new jobs to our community. I can verify many of these positive activities by all of the Ribbon Cuttings our Chamber has been involved in. It is almost an understatement to say we have been busy. To say we have been blessed is more appropriate.
Earlier this year, I referred to my Chair of the Board position as the "bus driver" who gets the keys to the bus for a year. And while driving the bus is a great opportunity, it's who is on the bus that is important. I want to say thank you for a great opportunity. And I want to say thank you to all of you who serve and get involved in our Chamber of Commerce and our community. You and your teamwork is what give each of us better opportunities. It has truly been a pleasure to sit in the driver's seat of our Chamber of Commerce bus this year.
On behalf of the Greater New Braunfels Chamber of Commerce and my family, may God bless you and your family this Christmas and in the New Year.
Now back to my personal "Christmas wish list"…… second thought, just call me. I only get so much space in this column.


Mark Hampton
Greater New Braunfels Chamber of Commerce
Chair of the Board