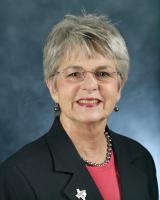 By Sandy Kibby, Chairman of the Board of The Greater New Braunfels Chamber of Commerce
The Farewell Article
This will be my last article as Chair of the Board of the Greater New Braunfels Chamber of Commerce. When I started my term I had hoped to emphasize the theme of sustainability of a strong business community throughout decades of growth and change. Perhaps the theme was not carried quite as loudly as I had hoped, but every month we have witnessed how good leaders have learned the necessary skills to keep the doors open and even expand and grow to meet the demands of the times, despite all obstacles.
At the November Chamber Board meeting we invited four such leaders to participate in a panel discussion about this very subject of sustainability. Sharing their words of wisdom were Mike Dietert of New Braunfels Smokehouse (68 years in business), Carol Johnson of Johnson Furniture (46 years in business), Mary Jane Nalley of Gruene Hall and the Gristmill (about 35 years in business), and David Schoenvogel of the Landa Park Railroad (31 years in business).
When asked about some of the major obstacles they have had to overcome, we heard that the "big box" stores brought strong competition; so, the businesses had to focus more on what the residents wanted and on customer service. Embracing the internet in order to compete with worldwide competition to enhance sales was a major theme for some. Two mentioned having the fortitude and resources to rebuild after major environmental disasters like flood after flood. And the challenge of finding an educated workforce was another common obstacle that all have had to deal with continually.
We also posed the question to each participant about how the Chamber can continue to help sustain their business in the future. Some of the comments that resonated with our board were that we should continue the tourism marketing that brings dollars into the community, continue support of workforce training initiatives, and continue the multitude of networking opportunities to increase relationship-building. There was great appreciation for the Chamber's economic development efforts to bring new jobs into the community while sustaining the stalwart businesses that have grown the city into what it is today.
Some participants complimented city government for posing the recent bond package that was passed and that will improve the city's infrastructure. We all see the need to be able to move traffic, drain our streets, keep the lights on and water flowing. All of these services lay the foundation for a fine quality of life that attracts growth. There is also continual concern for a strong educational system that works hard to keep youngsters in school until they graduate and to offer them post secondary education opportunities here at home. The belief is that if we extend the educational opportunities here perhaps they will stay here and share their expertise locally, sustaining and enhancing local businesses. If they leave the area to be educated elsewhere, the fear is that they will never come back.
We recently mourned the death of Bill Kotylo, a great leader in this community for thirty years and Chair of the Chamber Board in 2006. Bill was a fine example of how dedicated leaders can help sustain this community and enhance the quality of life here. His is an example, just as are the participants on our panel, from which we all should learn and replicate. Another fine example of leadership with grace is Chuck Teeter, a recent recipient of the Chair of the Board award. We'll honor Chuck at the annual banquet for his leadership in continuing the Airman of the Quarter program with the military at Randolph Brooks Air Force Base. When the military bases were consolidated, the 45-year-old program was threatened, but Chuck held strong and convinced the military leadership that New Braunfels has much to offer the military community, that we have a wealth of military retirees here, and that for now, the program should sustain. In December we'll recognize another very deserving Airman of the Quarter. And for this, we applaud Chuck for sustaining this program despite the obstacles.
Speaking of sustainability, what would New Braunfels be like without our 53-year-old Salute to Sausage? Wurstfest attracted more visitors than ever and Spassmeister Bill Holden made sure that everyone had a fun time while biting the sausage. President Al Leach welcomed the Chamber for our November mixer, and we shared the spotlight with our military friends from San Antonio. Thanks also go out to Executive Director Suzanne Herbelin for making sure that the event is so well organized and that the grounds are in great shape year after year.
Not only are we proud to recognize the many businesses that have sustained this community over the years, but we are also proud to welcome the new ones that will make their own mark on this city. In November we cut ribbons for Ranch on the Guadalupe, The Pinnacle at Eden Hill, New Beginnings Christian Church, Gruene Road Pharmacy, Taco Palenque, and the Lodge at Bridal Veil Falls. Each one of these new businesses exemplifies how our needs are growing. We continue to need more places to eat, to be entertained, to have beautiful venues for weddings, to know where we can sustain a quality of life as we grow older, and to have choices for obtaining our medical needs. Growth challenges, but growth also sustains our city.
As 2013 ends and we slide right into 2014, remember that your Chamber is here for you. It is the one constant entity in the business community. It is here to nurture and to help sustain the growth in spite of obstacles and changes. The staff at the Chamber works every day to keep the business community rolling along with contracts with the city and the county that keep the business community in touch with the direction of our governmental entities. Every week there are various committees meeting and learning and planning for ways to sustain this community. If you are not already involved, join a committee or two and do your part to sustain this great city.
The Chamber banquet on January 31st marks the beginning of the 95th year of leadership toward change through teamwork. It is meaningful that United States Senator Ted Cruz, whose family emigrated here from Cuba, is going to address us that evening, as we strive to be more inclusive and reach out to all communities within our city. We hope to see more involvement from all ethnicities as we move forward. We are all in this town together; so, let's make the most of it as we work together to sustain the cultural and ethnic melding of history in this great city.
New Chair of the Chamber Board Mark Hampton, a young and progressive realtor and leader, will take us to that next step. He is going to be emphasizing leadership through teamwork throughout his term. Best wishes go out to Mark for a great year ahead. Thanks to everyone for your support and for allowing me to serve as your Chair. It has been a wonderful honor that I shall cherish always.