Dayna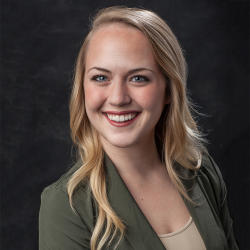 Stanfield is with Guest Services at the Greater New Braunfels Chamber of Commerce. In Guest Services, Dayna wears many hats. She greets and educates visitors on the beautiful city and its history, and works with CVB marketing events and the online calendar. Dayna enjoys Guest Services because it stays fast paced, and she gets to meet a new person every day!
Born in Houston, Dayna's family decided to call New Braunfels home when she was two years old, and what a great choice they made! Growing up in New Braunfels, she always knew how lucky she was. Dayna graduated from New Braunfels High School and was a cheerleader from 6th grade until she graduated. Dayna was a proud unicorn (Go Blue)! After high school, Dayna started college at The University of Texas at Austin. She then transferred to The University of Houston and graduated with a Bachelor's Degree in Business Management and a minor in marketing. While in Houston, Dayna had the pleasure of living with her grandmother – talk about a humbling experience. After graduating, Dayna moved home and was blessed with her son, Oaklen Miller Lisk, who is almost two. Always having such a love and respect for this city, she is so grateful to be able to raise her son here and work for this amazing community.
Fun Facts
Favorite flavor of ice cream? I don't really like ice cream, but Blue Bell's Rainbow Sherbet is my go to!
If you could time travel, what time period would you visit first? I definitely would go back to when I was about 15. I would tell myself a thing or two… or three.
Favorite all time musician or band? My millennial might come out here, but there is not one Britney Spears song I don't know the words to!