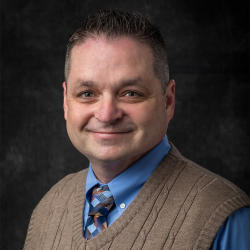 David Compton is known to much of New Braunfels as the esteemed publisher of the New Braunfels Herald-Zeitung, but not many know how he began his journey in the paper business.
Compton got the ink in his blood at an early age; his father was a reporter in the United States Army. By the age of 11, he had published his first column and sold his first newspaper ad. Since entering the industry professionally almost 25 years ago, he has never strayed from it.

While Compton's newspaper career path started early on the news side of the business, he actually entered it professionally on the sales side. He has successfully served in many capacities including stops as editor, ad director, publisher, regional publisher and top corporate revenue officer positions.
Compton has professionally led teams at 33 newspaper titles, 12 shoppers, several monthly magazines, dozens of websites and specialty publications across seven states to award-winning levels.
He's won many awards himself for writing and has been honored several times in his career for newspaper and community leadership. Most importantly to him, his career has provided the opportunity to work alongside some great teammates and to learn from some of the best mentors and visionaries in the business.
Locally, Compton currently serves on the boards for New Braunfels Food Bank, Comal County United Way, New Braunfels Parks Foundation and The Greater New Braunfels Chamber of Commerce. He is also an active member of the Rotary Club of New Braunfels.
He and his wife, Brianne, have one son, Noah.  They also share their lives and home with his mom, Pamela. For several years they have also found joy in opening their home to 15 different foster children over the past decade.
 
Fun Facts:
What is one thing on your bucket list? I have always wanted to ride a bull.

Who is your favorite superhero? Aquaman. 

If you could go on a free vacation anywhere in the world, where would you go? I would take my beautiful wife on her dream vacation to Ireland.