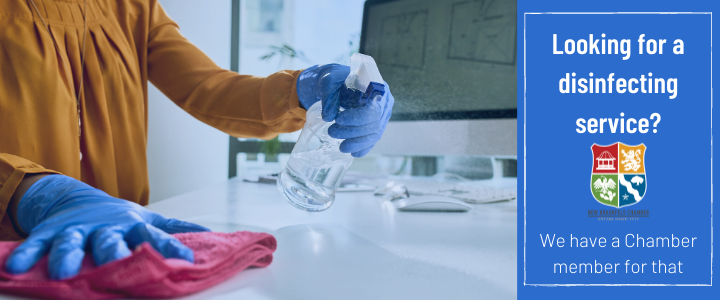 The Chamber would like to recognize our Member businesses offering COVID-19 disinfection services.

The members below can provide your business with proper cleaning for regular maintenance or after your business has been compromised due to an infection. We did the search for you, so you don't have to! 
Cummins Restaurant Service & Supply
Our antimicrobial coating kills viruses and other microbes on contact for 90 days. The coating incorporates a bonding agent that adheres to any type of surface and remains intact. The coating is water-based, microscopic, odorless, and nontoxic. It dries in minutes after being applied. EPA regulated, FDA certified, and completely safe for humans. Deadly for viruses and other microbes.
 
M4 Cleaning Services
Offering Vital Oxide fogging disinfection for homes, offices, facilities, and vehicles. Vital Oxide has been approved by the EPA for use against SARS-CoV-2, the coronavirus that causes the Coronavirus Disease 2019 (COVID-19). They meet the EPA's emerging pathogen requirements for viruses showing efficacy against envelope and non-envelope virus, both large and small. 
 
MBM Services
Offering a Hydrogen Peroxide based disinfecting fogging treatment recommended by the CDC to help stop the spread of COVID-19 and other bacteria that can be found in workplace environments, retail stores, restaurants, and within homes. Once completed, they can provide a banner to be placed on the outside of the establishment stating, "This establishment is sanitized daily/weekly for the safety and well-being of everyone." Starting at $40 for routine treatments, depending on the size of the location
 
SERVPRO San Marcos/New Braunfels
SERVPRO of the San Marcos/New Braunfels area is being called on by numerous businesses to perform the necessary services to clean, disinfect, and sanitize their properties. They offer cleaning practices that are in accordance with the guidelines provided by the CDC and local authorities.
 
Strikeforce Disinfection Services
A world-leading, hospital-grade disinfecting service from Xenex.com. Prices start at $199/hr for a team with 1 operator and 2 robots. $299/hr for 2 operators and 4 robots. Currently being offered is 25% off a half-day or 35% off a full day, however, Chamber Members will receive an additional 50% off the first hour of service. This service uses light over chemicals, therefore, leaving no chemical residue behind making it safe to use within homes, offices, and businesses. A 2 man, 4 robot team can typically cover 50-100k sqft in an 8-hour shift depending on contents and availability.
 
Triple C Epoxy Flooring
We are providing antimicrobial coatings with a product that protects all surfaces by killing bacteria, viruses, mold, and fungi. If you're not sure your place is being cleaned right, or if you just want to know if the products you are using work; give us a call. We can run a quick test & get you clean and protected. Testing is FREE! Our product is guaranteed to last up to 90 days.
Any business that is not featured here and is providing COVID-19 disinfection, give us a call or email Jennifer at Jennifer@InNewBraunfels.com.
Thank you & Stay Safe.