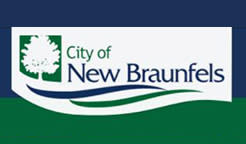 The New Braunfels City Council will meet Monday, February 12 at 6:00 p.m. for their Regular Meeting at 550 Landa Street. If not attending, the meeting can be viewed on Spectrum Enterprise channel 21 or AT&T U-Verse channel 99. The agenda includes three presentation, 11 items on the Consent Agenda, two of which are ordinances, and eight Individual Items For Consideration.
The meeting will begin with a presentation to Parks and Recreation Aquatics Division for selection as the Texas Public Pool Council Agency of the Year, an update on the Dry Comal Creek Watershed Protection Plan and water quality monitoring, and a presentation on preparations for the 2018 River Season.
The Consent Agenda includes the appointment of two individuals to the Heritage Commission, a land lease for the construction of a hangar at the New Braunfels Regional Airport, a contract for bond counsel services, an expenditure for marketing for the Das Rec, and adoption of membership and rental fees for Das Rec, among other items.
The Individual Items for Consideration include an all-way stop at the intersection of Frances Street and Stonecrest Path, rezoning 52 acres for "Rippen Ranch" Planned Development District, rezoning of nearly 15 acres for the Village at Gruene Planned Development District, a Special Use Permit allowing bulk storage of nearly 36,000 gallons of fuel in aboveground tanks, a bylaws amendment of the New Braunfels Downtown Development Board, and a waiver to allow the escrow of funds for sidewalk construction along Zipp Road associated with The Silos Subdivision, among other items.