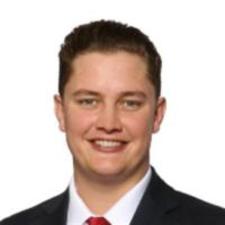 Cordell Bunch is an Assistant Vice President of Commercial Lending at Frost Bank in New Braunfels, where he has lived, worked, and played since 2019. In his role, he serves as a resource and trusted advisor, providing banking solutions and services for community businesses.
Bunch was born and raised in Pfluegerville, TX. He is a graduate of Texas State University, where he met his fiancée, Alyssa, and received his Bachelor of Business Administration in Finance. Bunch's career experience developed throughout his college years during his internship with First Commercial Bank as a Credit Analyst, and with the McCoy College of Business as a Senior Portfolio Manager for a student managed investment fund and Vice President of the Financial Management Association.
Through personal experiences, Bunch developed a deep passion for community engagement and giving back by supporting local non-profits. He serves as a mentor for Communities in Schools, is the Treasurer of the New Braunfels Jaycees, a member of the New Braunfels Noon Lions and the Texas Wildlife Association. Most recently, Bunch was named a 20 under 40 Rising Star of New Braunfels.
Bunch and his fiancée enjoy their free time together supporting local businesses, eateries and breweries, and soaking up the sun on New Braunfels' two rivers. They will wed in the summer of 2022 and look forward to starting and raising a family here.