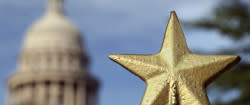 The Chamber's Government Affairs Committee will meet Thursday morning at 7:30 a.m. in Honors Hall for their regular monthly meeting. They City and NBU Federal Representative, Rich Leidl will video conference in from his office in Washington D.C.
Leidl will cover a wide variety of important congressional issues impacting New Braunfels. Pressing federal issues to be discussed include the Federal Contract Tower Program affecting the airport, federal grants that may impact local organizations including the Central Texas Technology Center, and New Braunfels Utilities' Aquifer Storage Recovery program. Leidl will also cover congressional elections coming up in November 2018, the federal budget and tax reform bill, the Affordable Care Act, and Executive Actions.
In 2018 the committee will focus on taking testimony from state elected officials as well as statewide organizations in order to develop the Chamber's legislative priorities recommendation for the Chamber's Board of Directors this fall. Coby Baese of Hill Country Payroll will continue as Chair of the Government Affairs Committee in 2018 and will preside at the meeting.
The Government Affairs committee focuses on local, state and national issues that are important to business and have an impact on the local area. For more information on this committee, or any of the Chamber's committees, visit www.CommitteesInNewBraunfels.com.