Comal ISD Community Partners Network Presents
STUDENT SUMMER JOB FAIR
Dear Community Partners,
Comal ISD Community Partners Network invites employers within our district communities to participate in our 3rd Annual Student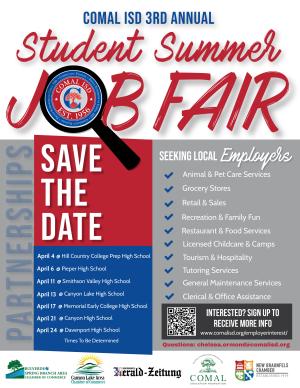 Summer Job Fair. This event provides an opportunity for high school students seeking summer jobs to browse local employers offering full or part-time, seasonal work, or internships all in one convenient place! Students will be offered a template to build their resume highlighting work experience, community service, and skill sets. Event is available for students to attend free of charge at all seven Comal ISD high school campuses.
Local employers participating in the Student Summer Job Fair will provide your team access to a diverse talent pool with a wide range of qualifications and abilities. Business partners looking to hire students during the summer will be featured in a directory provided to students in advance of the event. The directory will showcase your business, minimum age, starting pay rate, available positions and preferred qualifications. Students will be required to directly apply with each desired business.
Comal ISD's mission is to "Graduate every student ready for military, career, and/or college." Our educators strive to provide every student the academic, career and life skills needed to excel in an ever-changing world, and Comal ISD is determined to develop responsible and contributing citizens who discover their own gifts, talents and abilities. With the help of local partners like you, collectively we can prepare our students for life beyond the classroom walls. Your participation further supports the mission of Comal Education Foundation.
Event Details
Dates: (Times TBD)
April 4 @ Hill Country College Prep High School
April 6 @ Pieper High School
April 11 @ Smithson Valley High School
April 13 @ Canyon Lake High School
April 17 @ Memorial Early College High School
April 21 @ Canyon High School
April 24 @ Davenport High School
Benefitting: The mission of Comal Education Foundation to enrich learning and expand educational
opportunities so all students can excel.
Partnership Levels:
$25/day for Businesses or
$15/day for Nonprofit Organizations
-OR-
$150 for all 7 days for Businesses or
$90 for all 7 days for Nonprofit Organizations
Registration and Payment:
LINK COMING SOON!
Questions:
Email chelsea.ormond@comalisd.org or call 830.221.2114.