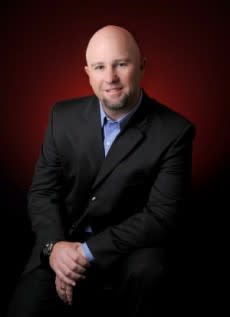 Clint Rutledge is the son of Legendary High School Football Coach D.W. Rutledge. Growing up around the Judson program, Clint eventually went on to become an All City player in both Baseball and Football at Judson High School.  During his time there he helped lead the Judson Rockets to Back to Back State Championships as a quarterback on their 1992 and 1993 Football teams.
Clint then went on to Baylor University where he graduated with a double major in History and English.  After graduating, he went back to Judson to serve as their quarterbacks Coach where he won his Third State Championship medal in 2002. In 2005, he left the coaching profession and entered the business world where he quickly became one of the top Realtors for Keller Williams Realty in the greater San Antonio area.
Combining his success in the Sports world with his success in the Business world, Clint Rutledge is now bursting onto the scene as a highly sought-after speaker and author. Speaking both nationally and internationally and sharing the stage with speakers such as Tony Evans, Chad Hennings, and Charlotte Jones Anderson (daughter of Dallas Cowboys owner Jerry Jones), Clint both challenges and entertains audiences with his signature storytelling.  Through his Fourth Quarter Leadership Institute, Clint can frequently be found sharing lessons on life and leadership with leaders of athletic teams one day and then highly successful business leaders the next.
In 2016, Clint became a bestselling author with his release of The Classroom: Lessons on Life and Leadership from a Texas High School Football Dynasty. The Classroom received praise from some high profile names such as Chip Gaines of HGTV's Fixer Upper who said "The Classroom, isn't just about a football program – it's about the virtues and character that truly make a person great." Former University of Texas Coach Mack Brown also said "The Classroom is about faith, accountability, and responsibility. It is a blue print of 'how to' when it comes to making a difference." Finally, former NFL running back and FOX Sports analyst Spencer Tillman said "Clint Rutledge masterfully introduces us to leadership skills that produce smarter more resilient people."
Clint has been married to his wife Jamie for 17 years and he has three kids, daughter Raylee age 14, son Ryder age 11, and daughter Reese age 4.
Learn more about Clint Rutledge, Rutledge Development and Fourth Quarter Institute at www.fourthquarterleadership.com and www.clintrutledge.com