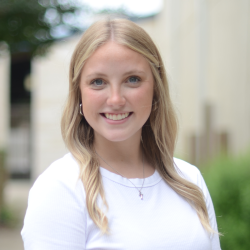 Claire Kendziora has recently joined the staff and runs Guest Services for the Chamber. Claire's duties include educating visitors on the city's history, attractions and businesses, managing events on the CVB's online calendar, and following up on all mail leads. Claire enjoys working with people and making sure everyone leaves with all of their questions answered.

Claire grew up in Needville, TX and moved to the hill country to attend Texas State University. She graduated in 2020 with her Bachelor's degree in Health Science and a minor in Psychology. She worked briefly on a jobsite with Vaughn Construction in Austin, but ultimately decided to pursue a job closer to home, thus finding her place here at the New Braunfels Chamber of Commerce.
 
Claire has also recently made the move to New Braunfels and couldn't be happier! She has always loved the hill country, as her family would make trips to Gruene every summer while growing up. She plans to stay in the area and start a life with her boyfriend Kasen.

In her free time, Claire and her friends enjoy floating the river, hanging around Downtown, and listening to live music!
Fun Facts:
What is your favorite holiday? Christmas, I love the magical season and the cooler weather!
What is one thing on your bucket list? To visit all 50 states.
Who is your favorite superhero? Captain America… or any of the Avengers!