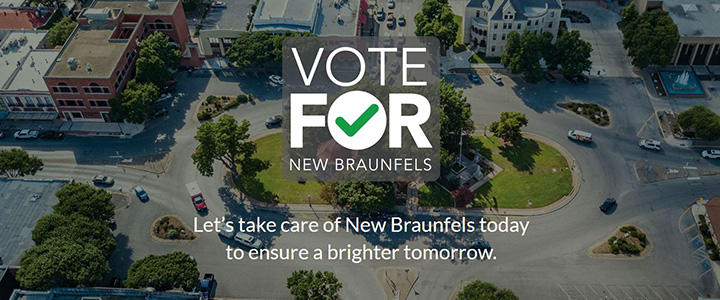 On May 4, 2019 New Braunfels residents will be asked to vote on a bond package that includes four propositions projected to result in a total of $120 million in debt issuance. The projects include streets, parks and recreations, public safety, and library. The total cost is actually $143 million but the City has been able to reduce the cost with the use of impact fees and a contribution by the New Braunfels Economic Development Corporation.
The projects included in the bond package culmination of a one-year development process that included the formation of a Bond Advisory Committee, sixteen public input meetings, and preliminary engineering reports on an initial slate of potential projects presented by the BAC, and final selection by City Council. It is projected that this bond program will not increase the City's property tax rate.
Proposition 1 aims to improve drivability across the City with citywide street improvements, reconstruction of Goodwin/Conrads Lane, phase 2 of the Klein Road Reconstruction, and additional streets funding for extensions of Business 81 and FM 306. After applying $8 million in roadway impact fees, the total cost of these streets projects will be $44,512,490 with $15 million of that earmarked for the citywide street improvements.
Proposition 2 provides improved parks and recreation amenities with funding for installation of all ability enhancements at existing park facilities, stabilization of the Comal Cemetery wall, and phase 1 construction of a 150+ acres sports fields complex. The NBEDC is contributing $15 million to the sports fields complex construction, bringing the cost of this proposition down to $16,547,420.
The most expensive portion is proposition 3 coming in at $50,414,750 for improved facilities. The projects would replace fire stations #2 and #3 and build a new police station. The fire stations would include living quarters, a kitchen, day room and gym along with apparatus bays. The police department facility would have office space for all divisions, public space, training room, vehicle maintenance bays, evidence storage and a gym.
The final proposition will provide improved education opportunities and enhanced services by building a new library next to the Westside Community Center. The project will provide access to an underserved area and will include program/multipurpose spaces, adult, young adult, and children's material collections, study rooms, computer works spaces and a drive up book drop. The total cost for this project is $5,525,340.
Early voting begins Monday, April 22.