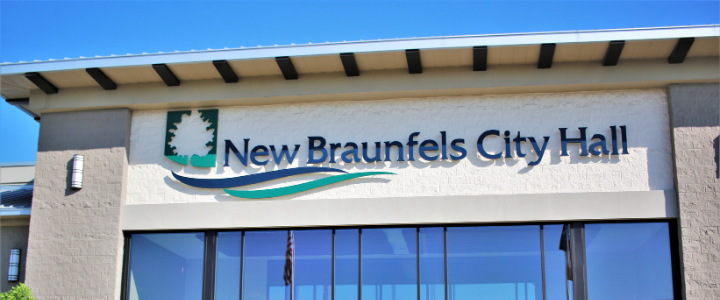 The New Braunfels City Council will hold their regular meeting Monday, July 12 at 6:00 p.m. at City Hall in the Council Chambers located at 550 Landa Street. The meeting will be available via Zoom for participants to join.
Please click the link below to join the webinar: https://us02web.zoom.us/j/83369443180 or call (833) 926-2300 Webinar ID: 833 6944 3180
The meeting will begin with a presentations for possible action directing staff to bring forward amendments to various development-related ordinances to streamline processes that require certain items to appear before City Council for final decision and the alignment of City board and Commission terms to occur in the Fall and Spring.
The Consent Agenda and Individual Items for Consideration include, consider approval of the installation of speed humps on Misty Acres Drive between SH 46 and Lake Front Avenue, restrict parking around the landscaped islands on the outside edges of Main Plaza, create school speed zones on West Klein Road and South Walnut Avenue, respectively, Deliberate issues regarding economic development negotiations for Project Hot Shots and Taskus, among other items.
Click here to read the full agenda >