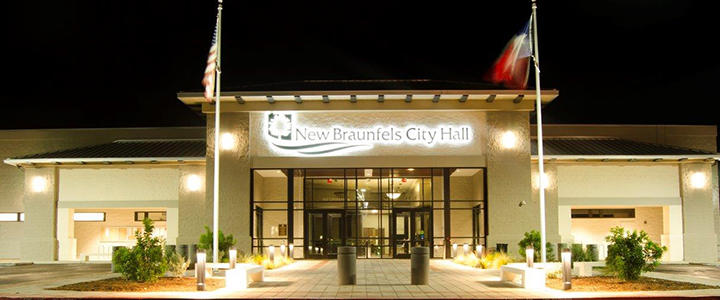 The New Braunfels City Council will meet Monday, May 14 at 6:00 p.m. for their Regular Meeting at 550 Landa Street. If not attending, the meeting can be viewed on Spectrum Enterprise channel 21 or AT&T U-Verse channel 99. The agenda includes one presentation, 15 items on the Consent Agenda, seven of which are ordinances, and 13 Individual Items For Consideration including the results of the May 5, 2018 election of Matthew Hoyt to the New Braunfels City Council.
The meeting will begin with a presentation to the Teen Court Mock Trial participants.
The Consent Agenda includes an appointment of individuals to the Airport Advisory Board and the Downtown Board, an agreement with the TxDOT for the development, design, and construction of pedestrian improvements including sidewalks, ramps, crosswalks, and signage in various locations around the town, a grant by the police department to the Department of Transportation of up to $80,242 to fund salaries and equipment, a project expenditure by the New Braunfels Economic Development Corporation of up to $450,000 for a project to construct transportation facilities of the AAMPO New Braunfels Pedestrian Improvement Project, and nominating TaskUs Inc. for designation as an Enterprise Zone Project, among other items.
The Individual Items for Consideration include the result of an election held on May 5, 2018, to elect one member of the New Braunfels City Council, appointment of one individual to the Community Development Advisory Committee, regulations regarding the use of public right-of-way in a portion of Downtown New Braunfels for sidewalk cafes, a request for a conditional sign permit to add an electronic sign at the Knights of Columbus Hall, an addition of two proposed temporary buildings at Freiheit Elementary School, a request to restrict parking on both sides of the 500 block of Hill Avenue and both sides of Gruene Park Drive, and amending the school speed zone for the New Braunfels Christian Academy Elementary, among other items.