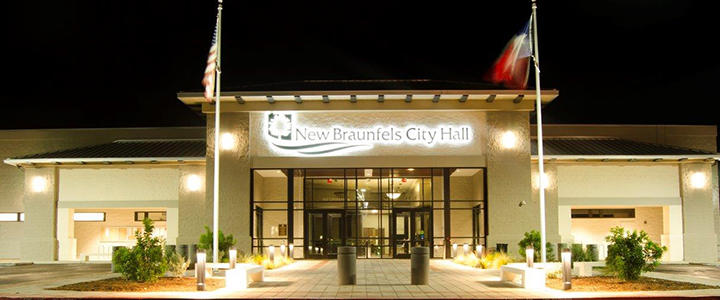 The New Braunfels City Council will meet Monday, September 10 at 6:00 p.m. for their Regular Meeting at 550 Landa Street. If not attending, the meeting can be viewed on Spectrum Enterprise channel 21 or AT&T U-Verse channel 99. The agenda includes three proclamations, one presentation, 11 items on the Consent Agenda, six of which are ordinances, and eight Individual Items For Consideration, including approval of design contracts for the proposed 2019 Bond Citywide Street Projects.
The meeting will begin with a proclamation for the Circle Arts Theatre 50th Anniversary, a Community Wildfire Protection Plan, and Hunger Action Month followed by a presentation, discussion and possible direction to staff regarding proposed amendments to the Code of Ordinances regarding Parking by Permit.
The Consent Agenda includes the approval of the appointment of one individual to the Historic Landmark Commission, authorize the City Manager to enter into a development agreement for traffic mitigation improvements as part of the Klein Road Reconstruction Project, the grant contract for the Routine Airport Maintenance Program through the Texas Department of Transportation in the amount of up to $50,000, and  an ordinance establishing the number of positions in each classification in the New Braunfels Fire Department and Police Department pursuant to Local Government Code, among other items.
The Individual Items for Consideration include the final reading of an ordinance to prohibit the intentional feeding of wildlife within City Limits, an ordinance adopting the 2018 ad valorem tax rates, approval of design contracts for the proposed 2019 Bond Citywide Street Projects, and a resolution designating the May Pro Tem as the official responsible for working with City Council and staff in the implementation, maintenance and coordination of the annual evaluations of the city manager, city attorney and municipal court judge, among other items.