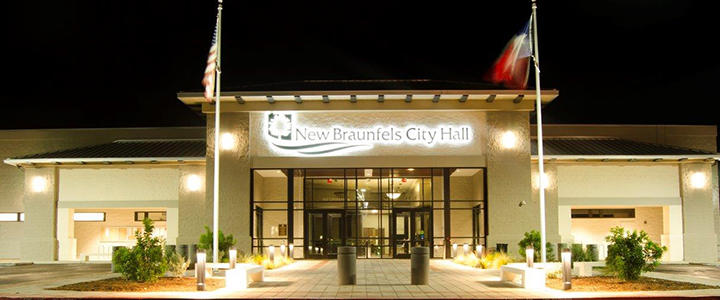 The New Braunfels City Council will meet Tuesday, July 8 at 6:00 p.m. for their Regular Meeting at 550 Landa Street. If not attending, the meeting can be viewed on Spectrum Enterprise channel 21 or AT&T U-Verse channel 99. The agenda includes two presentations, one proclamation, 11 items on the Consent Agenda, three of which are ordinances, and five Individual Items For Consideration, including an ordinance regarding fees for Das Rec Family Membership -Additional Family members.
The meeting will begin with two proclamations for Comal Springs and Parks and Recreation Month, followed by a presentation on the Comprehensive Solid Waste Management Plan. 
The Consent Agenda includes a contract with Myers Concrete for the construction of rain garden filtration systems and approval authority for the City Manager to approve changes as part of the Panther Canyon Erosion Control Improvements Project included in the 2013 Bond Program, issuance of invitations for Competitive Sealed Proposals for San Antonio Street from Krueger Avenue to Spur Street as part of the 2019 Bond City-Wide Streets Program, and an ordinance amending the Code of Ordinances Chapter 86-2 regarding refunds of reserved picnic area and individual picnic table usage fees in city parks, among other items.
The Individual Items for Consideration include a temporary road closure for the inaugural Downtown Harvest Dinner to be held on October 20, 2019, and an ordinance amending Chapter 126-355 of the City's Code of Ordinances to remove the prohibition of overnight parking in the Downtown Parking Zone and extend the limits of the Downtown Parking Zone to include both sides of East San Antonio Street from Market Avenue to Gilbert Avenue, and the southwest side of North Market Avenue from East Mill Street to East San Antonio Street, among other items.