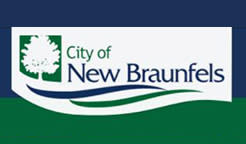 The New Braunfels City Council will meet Monday, April 23 at 6:00 p.m. for their Regular Meeting at 550 Landa Street. If not attending, the meeting can be viewed on Spectrum Enterprise channel 21 or AT&T U-Verse channel 99. The agenda includes one presentation, 17 items on the Consent Agenda, three of which are ordinances, and 12 Individual Items For Consideration including approving a settlement agreement with regard to Centerpoint Energy's statement of intent to increase rates.
The meeting will begin with a presentation regarding a request from the City of Seguin to release properties within the New Braunfels ETJ to allow them to be annexed into the City of Seguin.
The Consent Agenda includes an appointment of four individuals to the Historic Landmark Commission,  recommendations for allocating grant awards from hotel occupancy tax to various heritage organizations and arts organizations,  the purchase of Audio/Visual Equipment for the Exhibit Hall of the Civic/Convention Center, a temporary road closure for the third annual Dia de los Muertos Festival on October 27, 2018, setting a public hearing to amend the water and wastewater impact fees,  approval of a contract for the New Braunfels Regional Airport Taxilane Extension and Access Road Project, and a signal timing study on the SH 46 West corridor, among other items.
The Individual Items for Consideration include a response to the Environmental Protection Agency on its proposed Ozone National Ambient Air Quality Standard designation, a settlement agreement between the City and Centerpoint Energy Entex with regard to Centerpoint's statement of intent to increase rates, regulations regarding the use of public right-of-way in a portion of Downtown New Braunfels for sidewalk cafes, adding "Boutique Hotel" as a permitted use in the "Gruene Lake Village" Special District, a request to apply a Special Use Permit to allow the bulk storage of up to 80,000 gallons of fuel in belowground storage tanks, granting recognition to the New Braunfels Police Officers Association as the sole and exclusive bargaining agent for city police officers, and an ordinance regarding Youth Programs Standards of Care for the Parks and Recreation Department, among other items.