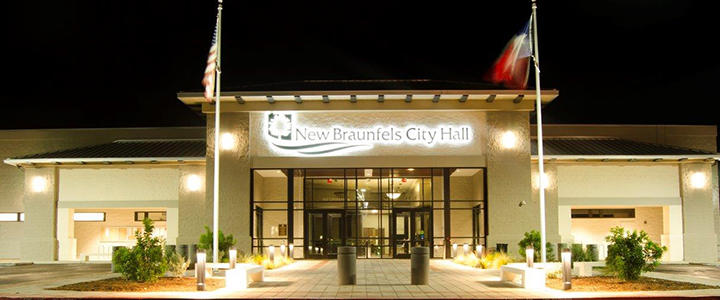 The New Braunfels City Council will meet Monday, November 12 at 6:00 p.m. for their Regular Meeting at 550 Landa Street. If not attending, the meeting can be viewed on Spectrum Enterprise channel 21 or AT&T U-Verse channel 99. The agenda includes one proclamation, five presentations, 11 items on the Consent Agenda, five of which are ordinances, and 10 Individual Items For Consideration, including increasing the cooler sizes allowed on the Comal and Guadalupe rivers.
The meeting will begin with presentations including proposed amendments regarding bicycles, a traffic impact analysis, turn lane requirements and access on major thoroughfare streets, and proposed 2019 Bond Program recommendations from the Bond Advisory Committee.
The Consent Agenda includes a contract for management of non-native waterfowl in Landa Park, a design contract for the Oak Run Sidewalk Project, an amendment to allow use of hotel tax revenues to meet the Convention and Tourism Fund reserve balance of the Greater New Braunfels Chamber of Commerce, and establishing the number of positions in each classification in the New Braunfels Fire Department and Police Department, among other items.
The Individual Items for Consideration include the appointment of two individuals to the Community Development Advisory Committee, adoption of the South Castell Visioning Plan, increasing the cooler sizes allowed on the Comal and Guadalupe rivers within the city limits, and extending the boundaries of the cooler and disposable container ordinance on the Guadalupe River to the Business 35 overpass inside the City limits, among other items.