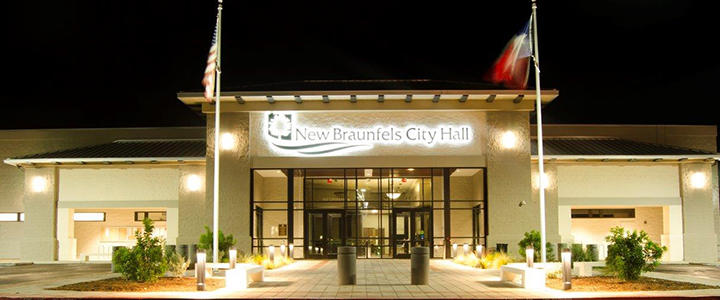 The New Braunfels City Council will meet Tuesday, May 28 at 6:00 p.m. for their Regular Meeting at 550 Landa Street. If not attending, the meeting can be viewed on Spectrum Enterprise channel 21 or AT&T U-Verse channel 99. The agenda includes two proclamations, 20 items on the Consent Agenda, five of which are ordinances, and 12 Individual Items For Consideration, including the renovation of Market Plaza Park.
The meeting will begin with two proclamations, including the Bond Advisory Committee and Gun Violence Awareness Day.
The Consent Agenda includes appointing individuals to the Central Texas Technology Center Advisory Board, the Airport Advisory Board and the Downtown Board, approval for City Manager to execute a contract with Kimley-Horn and Associates for Kohlenberg Road Development Project on behalf of the New Braunfels Economic Development Corporation for $35,675, a resolution recommended by the New Braunfels Economic Development Corporation approving a project expenditure of up to $4,000,000 for land acquisition of approximately 60 acres, and amending an ordinance pertaining to methods of fishing and release of non-native aquatic species into any body of water within the city limits, among other items.
The Individual Items for Consideration include an ordinance install an all-way stop at the intersection of Oak Run Parkway and Westpointe Drive, presentation and update on floating aquatic vegetation management in the Comal River, a five-year renewal and amendment of the current agreement between the City of New Braunfels and the Greater New Braunfels Chamber of Commerce Inc. concerning the use of Hotel Occupancy Tax, among other items.