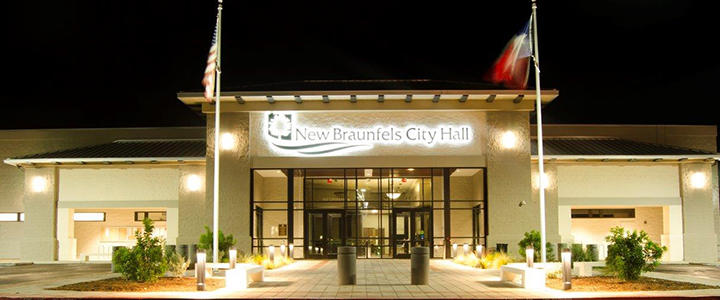 The New Braunfels City Council will meet Monday, September 24 at 6:00 p.m. for their Regular Meeting at 550 Landa Street. If not attending, the meeting can be viewed on Spectrum Enterprise channel 21 or AT&T U-Verse channel 99. The agenda includes four proclamations, three presentations, 15 items on the Consent Agenda, five of which are ordinances, and 11 Individual Items For Consideration, including proposed rezoning to allow short-term rental of three single-family residences.
The meeting will begin with a proclamation for the Living Legends, a Gruene Music & Wine Fest Weekend, German-American Day and 2018 River Season Teamwork, followed by a presentation on the 2018 River Season, an Update on the 175th Anniversary Celebration, and a Comprehensive Solid Waste Management Plan.
The Consent Agenda includes the approval of a resolution recommended by the Guadalupe Appraisal District approving roof repairs, exterior repairs, and parking expansion, an annual expenditure for uniforms for the Fire and Police Departments for $62,000, the City Manager to enter unto an interlocal agreement with New Braunfels Independent School District for cost participation and City use of Oak Run and New Braunfels Middle Schools' athletic fields for community recreation programming, an amendment to the contract between the City of New Braunfels and the Greater New Braunfels Chamber of Commerce Inc. concerning the use of Hotel Occupancy Tax and the appropriate budget amendment in the Hotel/Motel Tax Fund, an ordinance eliminating assignment pay for Criminal Investigator-Detective assignment within the Police Department, and an ordinance amending the City of New Braunfels Code of Ordinances to allow use of hotel tax revenues to meet the Convention and Tourism Fund reserve balance of the Greater New Braunfels Chamber of Commerce, among other items.
The Individual Items for Consideration include the approval of the appointment of two individuals to the Library Advisory Board, possible action regarding the FY 2019 Street Improvement Plan, an ordinance regarding the proposed rezoning to apply a Special Use Permit to allow short-term rental of three single-family residences addressed at 730 S. Mesquite Ave., 274 N. Liberty Ave. and 132 E. North St., and a waiver from the requirement to construct sidewalks along Schumanns Beach Road, among other items.