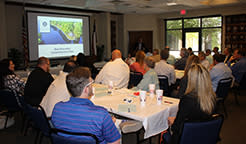 At today's Board of Directors meeting, City Councilmember Ron Reaves and City Planning Director Chris Looney provided an update on the City's Comprehensive Plan progress. Also at the meeting, Donna Eccleston was presented with a Chair of the Board Award and quarterly Blue Coat awards were given.
Comal County Commissioner Donna Eccleston was honored with the Chamber's Chair of the Board Award in the field of mental health. Douglas Miller was announced as the winner of the Blue Coat of the Quarter Award and Joe Timmins won the Senior Blue Coat of the Quarter Award.
City Councilmember Ron Reaves gave a brief overview of the Comprehension Plan explaining that the plan will establish a vision and framework for how the future of New Braunfels will look. The process to develop the plan has included a lot of community input and will be a reflection of the residents of New Braunfels. The plan will supersede the previous plan which was adopted in 1999 and updated in 2006.
Reaves then turned the presentation over to City Planning Director Chris Looney who gave more detail on the plan and the development process. The Comprehensive Plan is an overarching, long range vision for the community and will help inform future decision based on community expectations. The plan is not being written by a consultant or city staff, instead it is community driven and has been born out of a lot of input and involvement from residents.
The development process has already included the kickoff, visioning, goals, key findings, and actions and scenarios phases and is currently in the document phase where the plan document is being created, edited and finalized. The next step of the process is review and approval by the City Planning Commission and then it will be sent to the City Council for approval.