Chris Snider serves as President of Texas Tito's, a local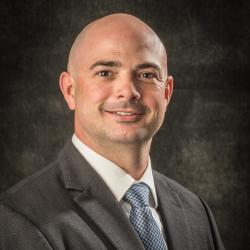 food manufacturer specializing in pickles and peppers. Tito's produces individually packaged dill pickles and portion packs of jalapenos that are shipped around the world to compliment nachos and other items at stadiums, movie theatres, convenience stores and other venues with concession stands.
Snider grew up in New Braunfels and graduated from Texas Christian University with a degree in International Marketing. After college Snider spent several years on the road as a sales rep for water sports companies selling kayaks, car racks and other gear and his territory spanned from California to Colorado to Texas. Eventually his travels led him back to New Braunfels where he accepted a job with Rockin' R River Rides who he still guides the occasional trip for to this day during high water conditions.
Snider serves on numerous boards and committees within the community including the New Braunfels Chamber of Commerce Board of Directors, New Braunfels Manufacturers Association, New Braunfels Food Bank, United Way of Comal County, Bike MS San Antonio Leadership Council and previously the Sally M. Kingsbury Sarcoma Research Foundation.
Snider is able to do all of this through the support of his wife, Marsha Snider. They have two children together, a daughter named Lily and a son named Cooper. Snider loves spending time outdoors with his family biking, hiking and playing on or around the local rivers.
Fun Facts:
What is one thing on your bucket list? Sailing across the Pacific and/ or Atlantic Ocean
Who is your favorite superhero? My dad. Also, Wolverine and Deadpool. They all have similar senses of humor at times.
If you could go on a free vacation anywhere in the world, where would you go? Fiji. Ideally by sailboat. That would really be getting the most out of a free vacation.