Chester Jenke is the Vice President of Economic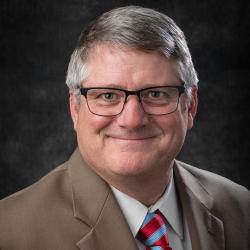 Development with the New Braunfels Chamber of Commerce and the New Braunfels Economic Development Corporation (NBEDC). Jenke has had a close relationship with economic development through training and skills training grants with companies such as Caterpillar, Toyota, and Commercial Metals Company (CMC).  After spending 10 years working in higher education as a campus administrator and 23 years as a member of the U.S. Air Force where he served as a C-5 Aircrew Member, this new adventure in life has been challenging, but very rewarding.
As the Vice President of Economic Development, Jenke oversees the Economic Development functions for NBEDC. In this position, he oversees the recruitment, communication, and coordination of prospective development projects to develop and improve the local economy through business expansion and retention programs, real estate development as well as workforce development opportunities.
Jenke holds a Bachelor of Arts in Business Management from Wayland Baptist University, a Master of Arts in Education from Tourou University, and is currently completing a doctoral degree from Texas Tech University where the dissertation title is, "The Perception of Community College Administrators and their Workforce Partners."
Jenke's hobbies include competitive Bass Tournament Fishing, hanging out with his 3-year-old grandson (and in January, the second grandson), and anything outdoors. Jenke also serves on several local, state and national committees.
Fun Facts: ​
What is one thing on your bucket list? I really do not have a bucket list – I have always thought that today is promised, but tomorrow is not guaranteed. The one thing that I really want to do, but I do have to wait for, is to take the grandkids hunting and fishing. I guess that this could be considered a bucket list item.​
Who is your favorite superhero? ​My favorite superhero is Spiderman because he is just your neighborhood friendly guy swinging around on a web instead of flying using a cape.​
If you could go on a free vacation anywhere in the world, where would you go? ​New York City – New York has so many different cultures all in one city. The sights of the city are second to none!​