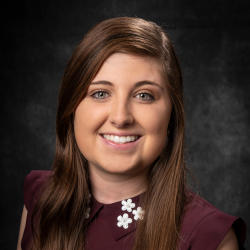 Chelsea Yohn is the Chamber's Communications Coordinator. She is responsible for social media, public relations, e-mail marketing, brand management, and Chamber website content among other communications and marketing activities. She assists with the planning and implementation for the Government Affairs Committee, Military Affairs Committees, Retirees Are Progressive Council, Hispanic Business Alliance, Women's Business Alliance and New Braunfels Jaycees.
Chelsea grew up in Amarillo, TX, graduated high school and moved to Levelland, TX for one year to attend South Plains University. After completing one year at community college she pursued her dream of attending Texas State University and moving to the Hill Country. She graduated from Texas State University in 2018 with her Bachelor's degree in Advertising with a minor in Psychology. After graduation Chelsea moved over to New Braunfels to begin her career pursuit, finding her place here as the Communications Coordinator for the New Braunfels Chamber of Commerce.
Chelsea has lived in New Braunfels for about a year and a half now and loves living in the Hill Country. In her free time she enjoys hiking at nearby state parks, tending to her ever-growing plant collection, and exploring new things in the area. She plans to stay in this area as long as possible, of course, traveling home to see her family in Amarillo when she gets a little too homesick.
Chelsea has younger twin sisters who are in college at Texas Tech University and Oklahoma University. She enjoys getting to see them during the holidays and in the summer time when they are out of school. Family time is very important to her since she lives so far from home. 
Fun Facts:
 What if your favorite food? Mexican. I could eat Mexican food every day!
  Who is your favorite singer? Cody Johnson (after George Strait of course)!
 What would you do with a million dollars? Buy my parents a house somewhere beautiful and get them out of Amarillo!