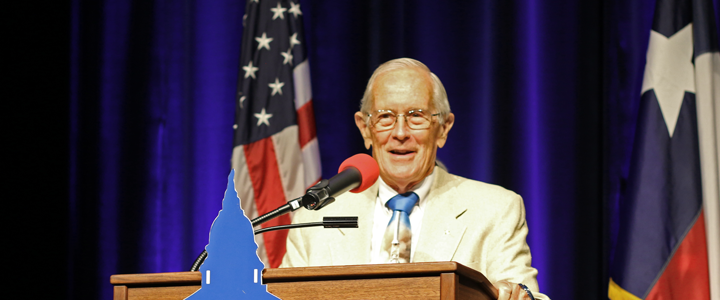 Apollo 16 Astronaut Gen. Charles Duke was honored as the 2020 Texan of the Year during the 54th Texas Legislative Conference on the evening of September 3 at the New Braunfels Civic Convention Center. Originally scheduled for March 2020, the annual event was postponed and held as a sit-down dinner to recognize the guest of honor.
During the event, Randy Rogers, a friend of Charlie, surprised him with a live performance of his song "Charlie Duke to Country Music to the Moon". In addition, Duke was presented with the traditional, granite Texan of the Year award and a decree appointing Charles Duke a Prince of the City of a Prince.
The conference portion of the Texas Legislative Conference will air virtually this week and next for existing ticket holders. The panel discussions will follow the schedule below.
The Role of Science in Our Economy
September 8 at 10:00 a.m.
September 9 at 10:00 a.m. (rerun)
Future Infrastructure Solutions for Texas
September 10 at 10:00 a.m.
September 11 at 10:00 a.m. (rerun)
Census 2020: Impacts on Future Elections/Funding
September 15 at 10:00 a.m.
September 16 at 10:00 a.m. (rerun)
Featured Panel: The Future of Space Exploration
September 17 at 10:00 a.m.
September 18 at 10:00 a.m. (rerun)
Mark your calendars, the 55th Annual Texas Legislative Conference will be held on March 25-26, 2021.