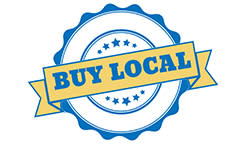 The Chamber is excited to announce our Buy Local Campaign! By choosing to Buy Local, you are choosing to help local and independent business owners within our community. The Chamber has always focused on supporting local businesses, and now more than ever is the time to get together to show our support.
We are gathering some resources to highlight New Braunfels businesses at work during this time. Please join us in this campaign as we continue to bring awareness to Buy Local and support our community. Let's keep New Braunfels strong!
New Braunfels is promoting business! Buy Local!