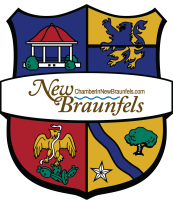 FOR IMMEDIATE RELEASE: June 8, 2018                                                               
CONTACT: Jenna Vinson, (830) 625-2385, Jenna@InNewBraunfels.com
CHAMBER TO HOST CYBER SECURITY SEMINAR
NEW BRAUNFELS, Texas – The Greater New Braunfels Chamber of Commerce's NB Business University will host a Cyber Security Seminar on Tuesday, June 12 from 11:30 to 1:00 p.m. to help business leaders identify and learn how to protect their information, resources and people. Tickets are available at www.LearnBusinessInNewBraunfels.com.  
How safe is your network? Are your employees trained to not click on a phishing attempt? What's on the web that you may not be aware of about you and your company? The days of thinking "it won't happen to me" are over. At this seminar, two certified TCOR Management professionals will demonstrate just how easy it is to hack into your network. Attend the Cyber Security seminar to help your business prepare.
The Cyber Security Seminar is the first seminar of a two-part series. The second seminar, Emergency Planning: Information, Personnel, Physical Assets, Catastrophic Events, will be held on Tuesday, July 17 from 11:30 to 1:00 p.m. This program will help you learn to manage the unexpected through crisis management planning including information asset protection, personnel security, and physical asset protection.
Individual seminars are discounted for chamber members at $55 and available to the general public at $80. The seminar package to include attendance at both CYA: Cover Your Assets seminars is $100 for Chamber members and $150 for non-members. Tickets include lunch.
For more information and to purchase tickets, visit www.LearnInNewBraunfels.com. This seminar series is sponsored by Riverstone Advisors, LLC - Leslie Lammers CFA.