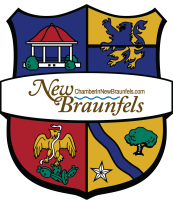 FOR IMMEDIATE RELEASE: December 28, 2018                                                     
CONTACT: Erica Clarke, (830) 625-2385, Erica@InNewBraunfels.com
CHAMBER TO CELEBRATE CENTENNIAL WITH WEEKLY HISTORICAL FEATURE
NEW BRAUNFELS, Texas – The Greater New Braunfels Chamber of Commerce, Inc. will celebrate its 100th Anniversary in 2019 and has several special events, activities, and promotions planned to observe this huge milestone. One of the promotions will include a weekly feature in the New Braunfels Herald-Zeitung highlighting significant historical accomplishments throughout the Chamber's 100 year history.
Parsing through newspaper articles and Chamber Board of Directors meeting minutes, a group of Chamber volunteers and staff created a lengthy timeline of historical accomplishments. These successes represent a wide range and broad scope of activities including raising funds to pave streets in town, developing the numbering system for postal mail, starting a shop local campaign as early as 1927, writing the City Charter, creating an Education Committee, funding the Landa Park Master Plan, recruiting countless jobs to the community, launching Wurstfest, Braunfels Foundation Trust, Communities in Schools, United Way, the Hispanic Business Alliance, and several other community organizations, tourism marketing, and many more significant achievements that have bettered our community.
Each week of 2019, a different Chamber accomplishment will be spotlighted in the pages of the New Braunfels Herald-Zeitung, giving a glance into both the Chamber and the community's storied history. In addition to the weekly feature, the Chamber will also host a birthday party on April 9, 2019, the same date the Chamber was launched 100 years earlier. At that event, the Chamber will honor local businesses who have also been in business for 100 years or more. 
The Centennial festivities will kick off at the Chamber's Annual Banquet & Awards Program on January 25, 2019. The evening will include a commemorative magazine with a full 100 year timeline, an updated logo, and the unveiling of a very special video detailing the Chamber's history, spotlighting many significant accomplishments, and hearing from community leaders who helped shape the Chamber and the community.
###