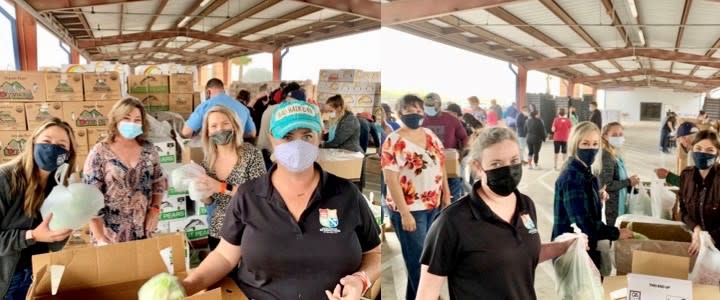 The Holiday Season is officially upon us with Thanksgiving Day right around the corner. Many families are preparing their shopping lists and finalizing plans to safely host a warm and plentiful Thanksgiving meal.
When frustration strikes you in the bustling grocery store this week, take a moment to remind yourself of the many things you have to be thankful for, including your cart full of food. Texas is ranked 2nd in the nation for food insecurity with 1 in 6 people living in food insecure homes.
The New Braunfels Food Bank serves our community and Southwest Texas proudly, providing services to approximately 58,000 individuals a week through partner agencies. Last week, the New Braunfels Chamber staff participated in a mega distribution at the Tree of Life Church, providing families in need supplies ahead of the holidays.
While many groups and helping hands were out packing fresh produce, turkeys and more, Chamber staff unpacked and prepared approximately:
•           3,100 heads of lettuce
•           10,700 pears
•           23,000 servings of frozen orange juice
•           2,500 frozen turkeys
In just a few hours of time, volunteers were able to impact more than 1,300 families. Now that's something to be thankful for.
Happy Thanksgiving, New Braunfels!
Learn how you can contribute to the New Braunfels Food Bank >