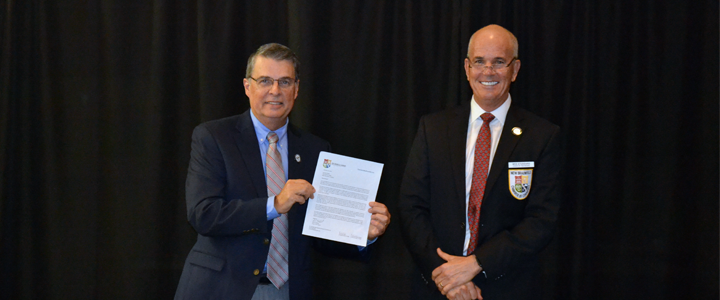 During the monthly Chamber Board of Directors meeting on Monday, October 26, Chair of the Board Wes Studdard awarded his sixth and final Chair of the Board Award. This award is designed to honor individuals who have made a significant contribution to the community in a specific field of civic endeavor.
The awardee is presented a letter from the Chair of the Board at a Board of Directors meeting, then presented a plaque at the Annual Chamber Banquet. The selection committee for this award is made up of the Immediate Past Chair, Chair of the Board, and Chair-Elect.
The awardee of the sixth Chair of the Board award for 2020 is Michael Meek in the field of community service. No more than six such awards are bestowed each year, and Michael's efforts chairing the 2020 New Braunfels Census committee more than qualified him for this award.
Meek will be further recognized during the 102nd Annual Chamber Banquet on January 29, 2021 along with fellow Chair of the Board Awardees.