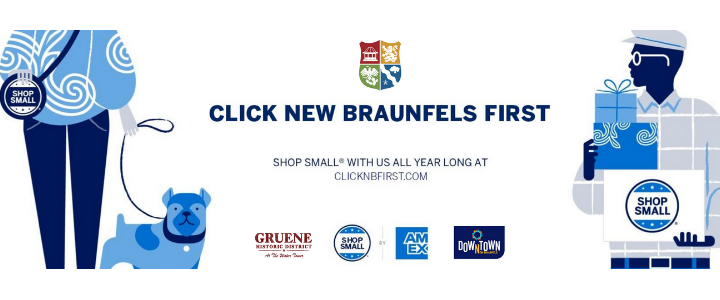 The newly added section of the www.ChamberInNewBraunfels.com website, www.ClickNBFirst.com is a joint effort with the Downtown Association and Gruene Historic District to encourage people to shop local this holiday season. The website features a directory of local retail stores to provide holiday shoppers a place to shop local while online shopping for the holidays. In addition to the directory, the website has gift guides to help complete your shopping list with links of where to find the products online or around town.
The Chamber's Small Business Week Committee developed the idea for ClickNBFirst in an effort to support Small Business Saturday. The New Braunfels Chamber serves as the "Neighborhood Champion" for the national campaign put on by American Express. Small Business Saturday was founded in 2010 to encourage people to Shop Small and bring more holiday shopping dollars to small businesses. "We want to give shoppers a single location to buy their holiday gifts from local businesses," said April Howard, Chair of the Small Business Week Committee.
Small Business Saturday is celebrated each year on the Saturday after Thanksgiving. This year that falls on Saturday, November 28. Don't forget to "Click New Braunfels First".