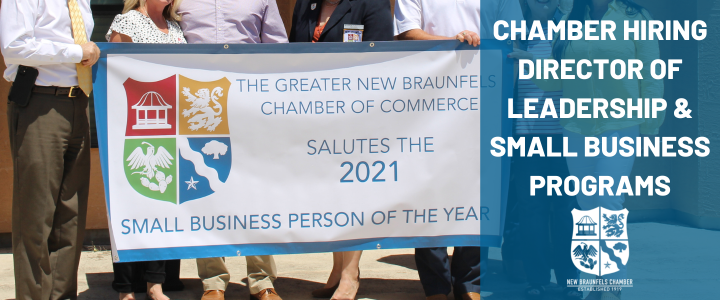 The Greater New Braunfels Chamber of Commerce is currently accepting applications for the position of Director of Small Business & Leadership Programs. This position is responsible for developing and managing the Chamber's leadership and small business programs, providing value and support to chamber members and small businesses through the leadership and development of events, committees and programs that support the Chamber's strategic directions. These programs include but are not limited to Leadership New Braunfels, Youth Leadership New Braunfels, Leadership New Braunfels Alumni Association, Small Business Week and the Business Trade Show.
The ideal candidate should have excellent written and verbal communication skills, be able to manage multiple projects and develop effective working relationships with colleagues, managers, volunteers and partners. A bachelor's degree in business or a related field, and at least three years of program and project management experience is preferred.
The full job description can be found here. All resumes and cover letters should be submitted to the Chamber's Vice President of Advocacy & Outreach at Alyssa@InNewBraunfels.com.