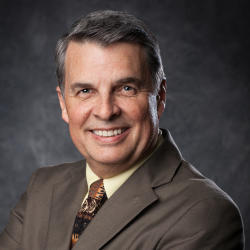 Due to the COVID-19 impact on the local economy and the many challenges ahead for the community, the Chamber Board of Directors and Search Committee has suspended the process to employ a new CEO, according to Chamber Chair of the Board Wes Studdard. Chamber President Michael Meek has agreed to stay on through July 31, 2021.
"Michael will still retire effective January 31, 2021 as planned but will then begin working part-time for the Chamber Feb. 1. We are grateful that he has agreed to stay on to provide the steady leadership that will be required to guide the organization and community through these challenging times," noted Studdard.
The Presidential Search Committee, headed up by Lilia Marek of Rougeux & Associates, will restart their efforts in January 2021 with the goal of having a new CEO identified for the board to consider by June 2021.