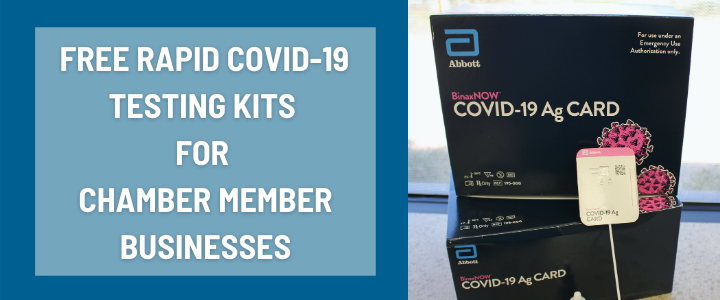 The Chamber has received an allocation of BinaxNOW test kits through a program designed by the Governors office and Texas Department of Emergency Management. BinaxNOW test kits are fast and portable rapid tests that can be administered in your office by a designated trained personnel. Becoming trained to administer the test is as simple as watching a short video with step by step instructions.
Since the initial rollout, the Chamber has signed up 27 businesses and allocated over 3,000 tests. Participating businesses have been able to confidently communicate to the customers that they have a healthy workforce ready to provide an ideal experience.
This program supports the Chamber's efforts to lead the business community through the rebound and recovery of the economy by giving businesses a tool to create safe environments for their customers and employees. The Chamber still has available tests to be allocated. Listed below are small businesses frequently asked questions.
What are the eligibility requirements for businesses to participate?
Business must be a Chamber Member.

Can we require an employee to take the BinaxNOW test?
Businesses cannot mandate the test on their employees.

How can I sign my business up to participate in the program?
Call the Chamber office at (830) 625-2385 or email Stephen Brockman at Stephen@InNewBraunfels.com

What is the cost to participate?
These tests are being provided free of charge from the federal government, and businesses cannot charge for administering the tests.

How do I obtain certification training?
A follow up email with instructions will be sent to the designated Test Administrator for your business.
A short online certification is required before the Test Administrator receives their login information for the testing site.
Once the course is completed, certificate must be emailed to Stephen@InNewBraunfels.com
Once certificate is received, a pickup time will be confirmed for your Test Administrator to pick up your testing kits at the Chamber office.

What type of Rapid Test is this?
The BinaxNOW Rapid Test is a minimally invasive nasal swab.

How long does the test take?
After the test is obtained using a sterile swab, the BinaxNOW Card will take 15 minutes to return a result.

How do I submit the results?
Testing results will be submitted by the testing website. Instructions for testing will be in training course, along with an in-person demonstration when testing kits are picked up.

Will we receive PPE to conduct these tests?
The Chamber has been allocated with masks for Test Administrators.

How do I reorder test kits?
In the need for more test kits, please contact the Chamber at (830) 625-2385.
To learn more about this program, please email Stephen@InNewBraunfels.com or call  (830) 625-2385.