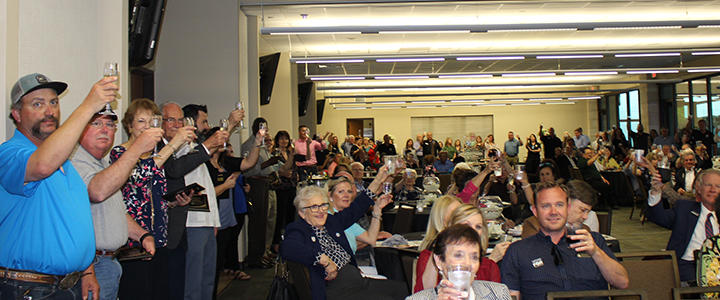 Since its inception on April 9, 1919, not a single year has gone by where the Greater New Braunfels Chamber of Commerce has not influenced the growth and quality of life of this unique community. It all began with a meeting in the Comal County Courthouse when businessmen came together to establish an organization that would help New Braunfels flourish. The mission of this new organization was to promote the city's commercial resources and to advocate advanced methods in municipal affairs. Now 100 years later, and the New Braunfels Chamber continues to do that and much more.
2019 is of course a special year for the Chamber and we've been celebrating our centennial all year long. It kicked off at the Annual Banquet in January with the premiere of an original production highlighting the Chamber's 100 year history and its impact on the community. Also unveiled at the banquet was a 20 foot long, seven feet high timeline wall that showcased 52 of the Chamber's most significant accomplishments. The timeline has been making its way around the community including stops at City Hall, the Civic Convention Center, Resolute Health Hospital, Das Rec, and the Public Library.
Festivities continued on the Chamber's birthday with a special celebration on April 9. The evening included recognition of other area businesses and organizations who were also in the Centennial Club with more than 100 years of continuous operation. In addition to the big events, throughout the year the big milestone will be featured weekly in the New Braunfels Herald-Zeitung, on social media, in email marketing, and at other events and meetings.
The Chamber has been dedicated to the community and to businesses for 100 years. Our mission may be slightly evolved now, but the principles remain the same: promote the civic and commercial progress of New Braunfels and the immediate area. With 100 years under our belt, we're looking forward to the future and our continued commitment to ensuring a vibrant and prosperous community for future generations.