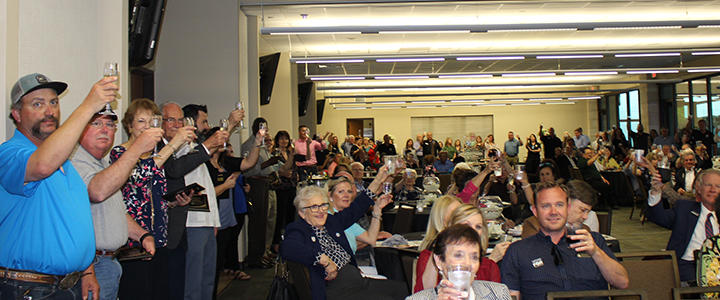 The Chamber celebrated their 100th birthday Tuesday, April 9 at the New Braunfels Civic Convention Center. Chamber Chair of the Board Shane Wolf welcomed more than 225 Chamber volunteers, City and County officials and special guests who came to pay tribute to businesses that have been operating for 100 years or more. Twenty-two businesses were recognized and presented with a plaque to commemorate their status as a Centennial Business. To view pictures from the evening, click here.   
Businesses who have been operating for 100 years or more:
Allen Chapel AME Church
Comal County
Farmers Mutual Fire Ins. Association
Freiheit Bowling Club
Henne Hardware
Live Oak Baptist Church
New Braunfels Church of Christ
New Braunfels Schuetzen Verein
Solm's Bowling Club
Southwestern Telegraph and Telephone Co.