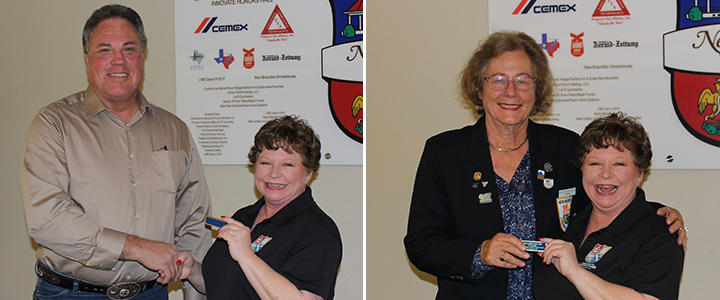 The Chamber Board of Directors met today in their first scheduled board meeting of 2019.  New Chair of the Board Shane Wolf presided at the meeting held in Honors Hall.  The board luncheon sponsor was the San Antonio Commanders, the new pro football team in the newly formed league.  Representatives of the team were on hand to speak about the new team and league, which has their first game in the Alamo Dome on February 9.  Former Dallas Cowboy great Daryl Johnston is the GM of the team.  The league consists of eight teams.  Players aspire to make it to the next level following their college playing days.  Lower level tickets are as low as $15 and they expect 25,000 to attend.
Directors also heard a report from fellow director Shelley Bujnoch about the Hispanic Business Alliance.  The HBA has a "Giving Committee" this year to distribute funds raised from the Dia de los Muertos festival to qualifying businesses in need. The HBA also plans to honor those in the community that have advanced local Hispanic heritage.  The 4th Dia de los Muertos Festival is set for the Saturday before Halloween.
Directors approved the final 2019 Chamber budget for the year, approved bank signature cards, and appointed Herald-Zeitung Publisher Neice Bell to the board of directors to fill an unexpired term.  Also announced at the meeting were the 4th Quarter 2018 Blue Coat and Senior Blue Coat of the Quarter, Art Brinkkoeter and Helgard Suhr-Hollis respectively.