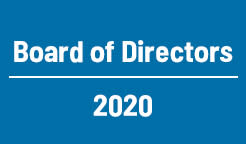 The Chamber's bylaws call for a special meeting each November of the following year's board of directors to elect officers and approve a preliminary budget. The bylaws also call for ratification of the incoming Chair of the Board's one-year appointees.
Wes Studdard, 2020 Chair of the Board, presided over the special meeting today. Nominating Committee Chair Robin Jeffers welcomed those elected to new three-year terms as Coby Baese, Darren Hill, Allison Humphries, Alice Jewell, Lilia Marek, and Ian Perez.
Studdard's one-year appointees of Randy Moczygemba, Matt Smith, and Chris Snider were ratified by the board. In addition, Nathan Manlove was elected Chair-Elect, Ian Taylor as Vice Chair, and Allison Dietert as Vice Chair. They join Studdard, Immediate Past Chair Shane Wolf, and Chamber President Michael Meek on the Chamber's Executive Committee.
Lastly, board members adopted a 2020 preliminary budget. The final 2020 budget will be voted on at the January board of directors meeting.