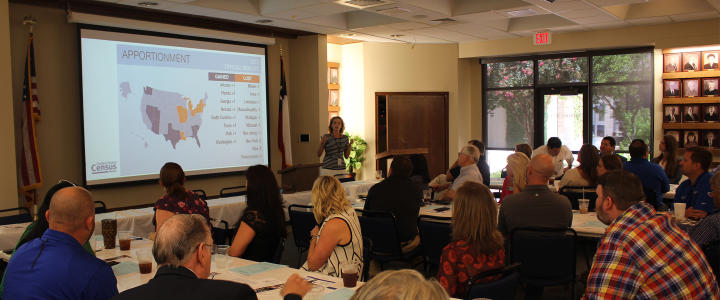 At today's Chamber Board of Directors meeting, a Census 2020 report and Economic Development update were provided along with Blue Coat Awards and two Chair of the Board Awards. Myra Zunker received her Life Membership for earning 3,000 Blue Coat points, and Sandy Payson and Joe Timmins were recognized as Blue Coats of the Quarter. Chair of the Board Awards were given to Ian Perez in the field of community improvement and Dr. Whitney Mitchell in the field of education. Read more about those awards here.
Representatives from the U.S. Census Bureau gave a report on the upcoming 2020 Census. The U.S. Constitution requires a Census be done every 10 years and April 1, 2020 is Census day. The Census has major impacts on states and local communities as it determines the number of congressional seats a state has and the distribution of billions of dollars of federal funding is based on population. In 2010 Texas gained four congressional seats and with a 14% increase since then, it is likely that the state may gain another three in 2020. In FY2016, Texas received $59 billion in federal funding based on data derived from the 2010 Census.
It is important to note that Census information is completely confidential. The Census Bureau never shares information with other government agencies such as the IRS, FBI, or Department of Homeland Security. In 2020, for the first time the Census is going digital by giving respondents the option to complete the questionnaire online as well as by phone or mail. Chamber President Michael Meek will chair New Braunfels' Complete Count Committee to help raise awareness and encourage participation in the 2020 Census.
The meeting was concluded with a brief Economic Development presentation by Chamber Vice President of Economic Development Chester Jenke, Assistant City Manager Jordan Matney, and NB Economic Development Corporation President Neal Linnartz. Matney reported that the City primarily manages the regulation component of incentive agreements by tracking the agreements to ensure compliance is met by the company and incentives are received.
Linnartz reviewed the NBEDC's composition of seven community members appointed by the City Council. The NBEDC makes recommendations to the City for distribution of funds for economic development and quality of life projects. Jenke reported that the Chamber is the marketing arm of the team and does due diligence in reviewing prospects to determine if the company would be a good fit for New Braunfels and that the community has all the requirements. He reviewed several demographic charts including new primary jobs, median household income, new business meters, available office space and average home value, all of which are available to the public.
Jenke reported on recent projects: TaskUs which has 221 employees and occupies 28,300 square feet, and Go! Retail which moved into 250,000 square feet, has hired 32 employees, transferred 12 employees, and will have a final employment of 62. He also mentioned that there are eight new leads, 27 active leads, two advanced projects worth $130 million in capital investments and more than 1,000 jobs. New Braunfels is also in the final five for site selection for three projects.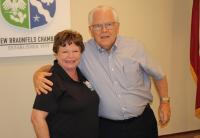 Sandy Payson receives recognition for Blue Coat of the Quarter.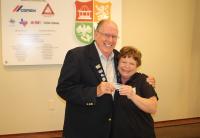 Joseph Timmins receives recognition for Senior Blue Coat of the Quarter.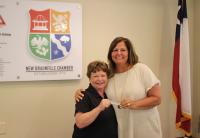 Myra Zunker receives her Life Membership.