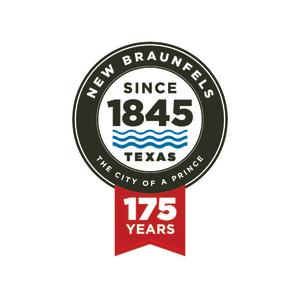 The 175th celebration of New Braunfels founding is ramping up! The Historical Committee has completed its three-year project and created a stunning coffee table book, History Flows Here. The book is on sale and purchases can be made online. Look for the launch of all the gift and souvenier items at Weihnachtsmarkt! Items will continue to be on sale after Weihnachtsmarkt at Sophie's Shop, Henne Hardware, and The Local.
The Highway Gateway Monuments, the anchor project of the year's celebration, have gotten final approval from TxDOT and construction is underway! The Industrial Committee deserves recognition for their hard work with this project. The new street signs should be installed over the next few months as well.
The calendar of events is filling up as a busy and fun filled year. Mark your calendars now so that you don't' miss out on any of the events, especially the fireworks and parade. The Kindermasken Parade will open for the Founders Parade on March 21, 2020. The Kindermasken Ball will follow the parade in Landa Park at the Dance Slab just like the good ole days. There will also be a River Parade in late summer 2020. Start your creative ideas now to make sure these parades have special floats!
Thank you to the dedicated sponsors who are helping make these events happen. Many of these individuals, organizations, and companies stepped up to support the celebration more than four years ago and continue to support this exciting year. Please take a moment to thank those sponsors; they are your friends and neighbors. If you are interested in sponsoring, contact Judy Young at Judy@InNewBraunfels.com.  
The Founder's Fireworks on March 21 are generously brought to you by all sponsors with Rocky Hill Equipment as the presenting sponsor. Thank you to the Hill family, who was recently the subject of this year's Weihnachtsmarkt poster.
The Community Breakfast on March 14 is presented by the New Braunfels Downtown Rotary.  
The celebrations are extensive, and should make our ancestors proud. Previous celebration photos can be found at www.Since1845.com. Those celebrations gave our community the fountain on the plaza, the curb and area that you now see for the main plaza area (to keep the horses from being watered in the fountain), upgraded recognition and area around Founder's Oak, and many more icons in the community. Prost!