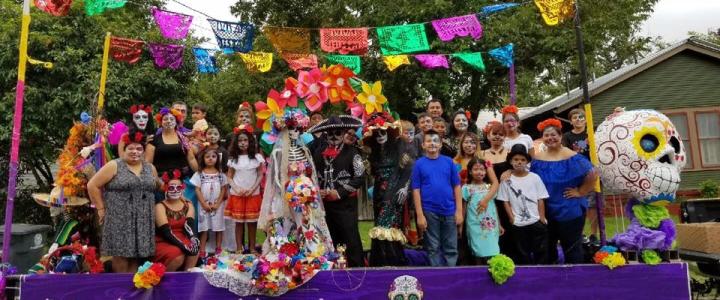 The Chamber's Hispanic Business Alliance is hosting the 3rd Annual Dia de los Muertos Festival on Saturday, October 27 from noon to 10:00 p.m. in downtown New Braunfels. This is a free community event highlighting Hispanic culture including local food, drinks, arts & crafts, vendor booths, shopping and live entertainment.
This year's event will be even bigger and better than the last two years with extended hours and the introduction of a Kids Corner and kid-friendly activities including a sugar skull class, storytelling time, and a flores de papel class, among others. There will also be a community offrenda, mariachis, art exhibition, several contests, two stages with live music, and more than 60 vendors, including food trucks. One of the new additions is a "Show Us Your Chancla" contest. For this contest, arrive to the festival with decorated sandals that you have created in line with the theme in order to be judged. There is one rule: you must be able to wear your chanclas!
This event is expected to draw thousands of residents and visitors to downtown New Braunfels. The festival is FREE to attend. For more information, visit www.NBDDLM.com.
To volunteer at the Dia de los Muertos festival, click the "Sign Up Now" button below.