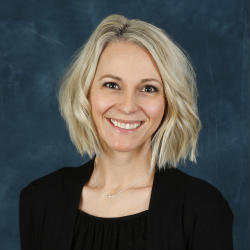 Cara Frederick is the Director of Operations at ME360, a leadership development and communication training firm in New Braunfels.
For 15+ years, Cara has served as a business development professional making connections and growing relationships in both private industry and higher education. In this role, she provides a wide range of actionable perspectives, creative problem solving, and team leadership.
Earning a Master of Education (M.Ed.) from the University of Houston-Victoria and a Bachelor of Business Administration (B.B.A.) from Texas State University, Cara brings a clear understanding of the leadership and managerial challenges organizations face today. She recognizes how important and valuable the right diagnostics and development tools are to the overall success of an organization's culture, people and financial resilience.
​As an active contributor to the business community, Cara serves on the Board of Directors, Business Advisory Committee, and is a Blue Coat Ambassador for The Greater New Braunfels Chamber of Commerce. 
Cara met her husband, Jason, in 2004 while working at McCoy Corporation and they have 2 young children, Blake and Ryan Avery. They consider themselves blessed to be raising their family in New Braunfels. The Frederick's attend Oakwood Church in New Braunfels and love spending time outdoors near the water and fishing.