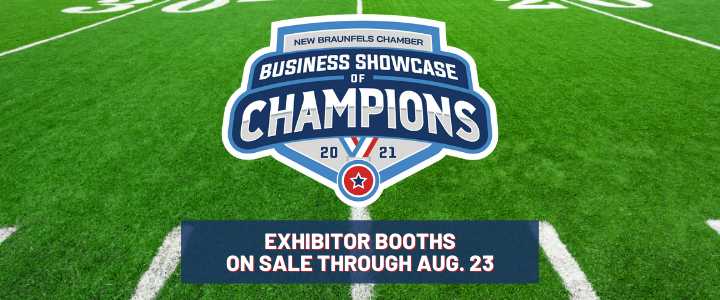 The 33rd Annual Business Showcase is back in the game! This year's "sports" themed event will take place on Tuesday, September 14, so break out your championship gear and celebrate with the champions of New Braunfels' business community.
This year's show is a one-day event featuring a day show from 10:30 a.m. to 4:00 p.m. followed by a "Night of Champions" from 5:30 p.m. to 8:00 p.m.
Businesses wanting to participate have until August 23rd to reserve an exhibitor space at the Business Showcase. This is a great opportunity for both large and small businesses to showcase their products and services, get sales leads and network with other businesses in the area.

Want to come learn more about New Braunfels businesses? This event is open to the public! Attendees can enjoy food, drinks, live music, a silent auction, door prizes and more!
Tickets for the Day Show and "Night of Champions" are on sale now. Get your Day Show ticket for $5 or your "Night of Champions" tickets for $25 (includes admission to the day show).