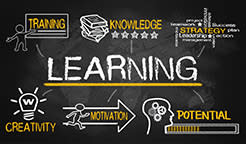 The Chamber's Business-Education Partnership Committee will meet on Thursday, November 16, at 7:30 a.m. in Honors Hall for their regular monthly meeting. Committee Chair Chris Snider will preside. The committee will hear reports on committee activities, a status update about the NEPRIS program, and begin planning for the Kits for Kids stuffing party at the December meeting.
The committee is looking for sponsors and book donations to help fill the 500 Kits for Kids the committee would like to stuff and deliver to area schools and agencies. These Kits will provide parenting and reading resources to families who have young children. Each Kit gets two children's books that are on a 3-8 year old reading level, with the intent to encourage parents to read with their children. Please contact Rusty Brockman, at the Chamber, if you have gently used children's books to donate.
The Business-Education Partnership Committee acts as the education advocate for the community, acting on the recommendations of the Mayor's Higher Education Task Force. For more information on this committee, or any of the Chamber's committees, visit www.CommitteesInNewBraunfels.com.