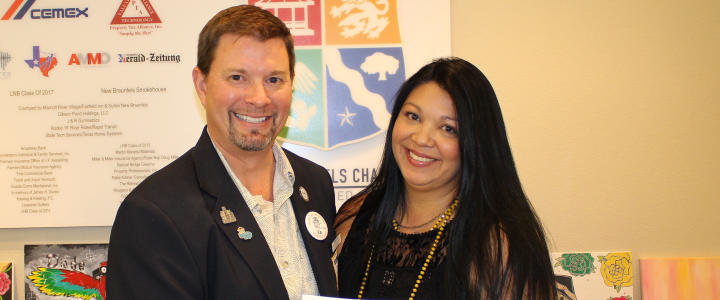 At today's Chamber Board of Directors meeting, Shelley Bujnoch received the Chair of the Board Award in the field of cultural promotion and understanding for her efforts in leading the Chamber's Hispanic Business Alliance and the signature Dia de los Muertos Festival. This award is designed to honor individuals who have made a significant contribution to the community in a specific field of endeavor, and no more than six recipients may be named in a calendar year.
Bujnoch grew up in Seguin and received her college degree in mass communications from Southwest Texas State University. She immediately moved to New Braunfels and started a career in sales at The Scooter Store. Having received a foundation in leading, coaching and developing people, she began working for Paychex seven years ago. Bujnoch develops territories in San Antonio and New Braunfels, and the company now has her training new agents around the state.
Bujnoch has a passion for making a difference in the community; and in the early stages of the formation of the Hispanic Business Alliance, it was her idea to hold a local Dia de los Muertos event. The event has grown to be held in downtown with thousands in attendance. Bujnoch has chaired the Hispanic Business Alliance for the last three years, serves on the Chamber's Board of Directors, and was awarded in 2017 as a Rising Star of New Braunfels. Her passion is family and business, but she is also known locally as dedicated, reliable, genuine and honest in all activities.
For these reasons and many more, Bujnoch is the sixth and final recipient of the Chair of the Board Award of 2019. J.P. Medina was honored in the field of youth development in April, in July Dr. Whitney Mitchell was honored in the field of education and Ian Perez was honored in the field of community improvement, Jan Kinsgbury was honored in the field of tourism development in August, and Sherry Harrison was honored in the field of education in September. Bujnoch and her husband Jeff will be invited as special guests to the Annual Chamber Banquet on January 31, 2020 where they will be further honored.